Interactive charts and maps - Radar charts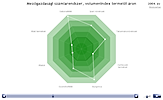 The interactive octagonal radar chart presents annual volume changes in the production account of the economic accounts for agriculture (EAA) by main groups of products, between 2000 and 2011.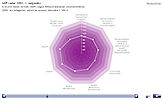 The radardiagram shows the direction and extent of the quarterly volume changes of consumption, capital formation and exports, imports and their impact on gross domestic product at previous year's prices compared to the preceding year, from 1995 to present.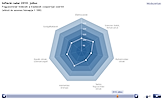 The interactive radar chart presents changes in consumer prices from January 2000 broken down by main groups of expenditures established from the products and services playing important role in the purchases of the households.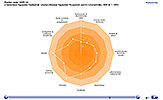 The interactive radar diagram shows the evolution of volume of household consumption expenditure in the twelve main groups since 2004. Expenditures of each year compared to 2003 prices.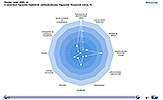 The interactive radar chart shows the structure of per capita expenditure of households since 2000. The charts presents the data according to COICOP (
Classification Of Individual Consumption by Purpose
) and reflects the share of some items from the total consumption of households, so, what weight they represent in costumer spending on food, housing, etc.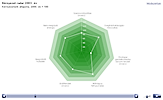 This diagram illustrates the changes of environmental pressure based on data from the last 10 years. A typical indicator has been selected from each chapter of Environmental Report of Hungary, 2013. Changes of indicators were depicted in a way that in the diagram decrease means improvement from the environmental point of view. For example, growth of areas under organic farming is shown as a decrease, this is exemplified with the invert of the original index.
The diagram shows the changes of the seven indicators compared to 2000 and demonstrates the effect of human activities on the environment with the change in the polygon's area.
User's guide
In order to learn about the functions of the programme, move the cursor over the picture.