Dinner close to the nature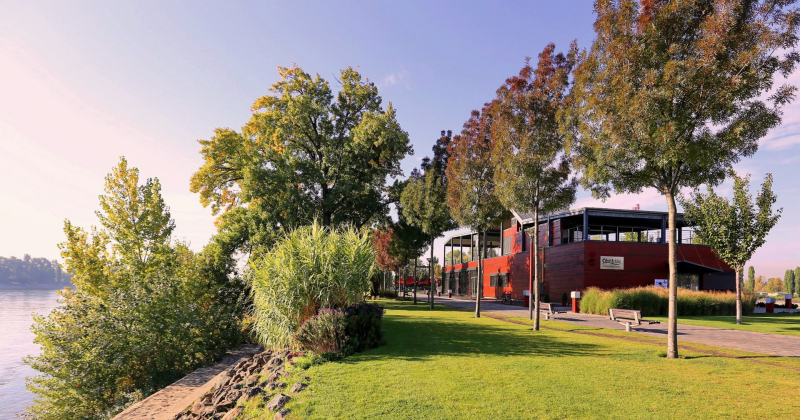 Date:
Thursday, 20 October 2016
Time:
Welcome drink from 7.30 pm
Dinner at 8.00 pm
Location:
ÖbölHáz Rendezvényközpont
(BayHouse Event Centre)
1117 Budapest, Kopaszi gát 1.
Dress code:
business casual
Package price:
45 €
Package price includes the following services: multi-course buffet dinner with international and Hungarian cuisine, welcome drink, soft and alcoholic drinks (wine, beer), coffee and tea, free transfer between conference venue and the event centre and backwards.
Please note that transfer leaves at 7.00 pm from conference venue to the event centre! After dinner transfer returns to conference venue at 11 pm.
Registration is compulsory for the event. Don't forget to sign up!
Dinner ticket can be received at the conference registration desk, only after prepayment.
On the day of the event, only limited number of dinner tickets are available. Please ensure your seat by registration in advance!
The venue: ÖbölHáz Rendezvényközpont (BayHouse Event Centre)
ÖbölHáz Rendezvényközpont is located in a nice picturesque area of Budapest. Ground floor rooms are glazed from ceiling to floor, so even in winter it offers a unique "inside out" experience with a view on both sides of the Danube. From the covered roof-terrace an amazing panorama makes any event unforgettable.
The event centre can be found at Kopaszi-gát which is a beautifully landscaped green recreation area in south Buda, next to Rákóczi Bridge. From spring till autumn restaurants, cafés, terraces and playgrounds welcome people of all age to walk, run, relax, eat or drink. All restaurants have a front terrace located on the main walkway as well as a rear terrace overlooking the bay.
Picnic in the green, walking on the grass (it is allowed here and even asked to do that!), kayaking in the protected bay, relaxing on the beach or just having a walk under the trees make this place in Budapest a really sympatic and friendly place to be.