Useful information
about Hungary/Budapest
Hungary is a landlocked country in the heart of Europe, with a population of around 9.8 million people. The official language is Hungarian, a Uralic language completely different from the languages of its neighbouring countries. It is also known as "the land of waters," as it is not only home to the largest lake in Central Europe called Balaton, but also has over a thousand of thermal water springs scattered around the country. The culture and people of Hungary also show a great variety of unique traditions, customs and cuisine, incorporating the heritage of a thousand years of history.
Budapest, a lively and welcoming capital united by the River Danube with hills and valleys on one side, and plains on the other, connected with a series of graceful bridges spanning the river, offers a unique panorama. In addition to aesthetic assets, Budapest also boasts many historical treasures.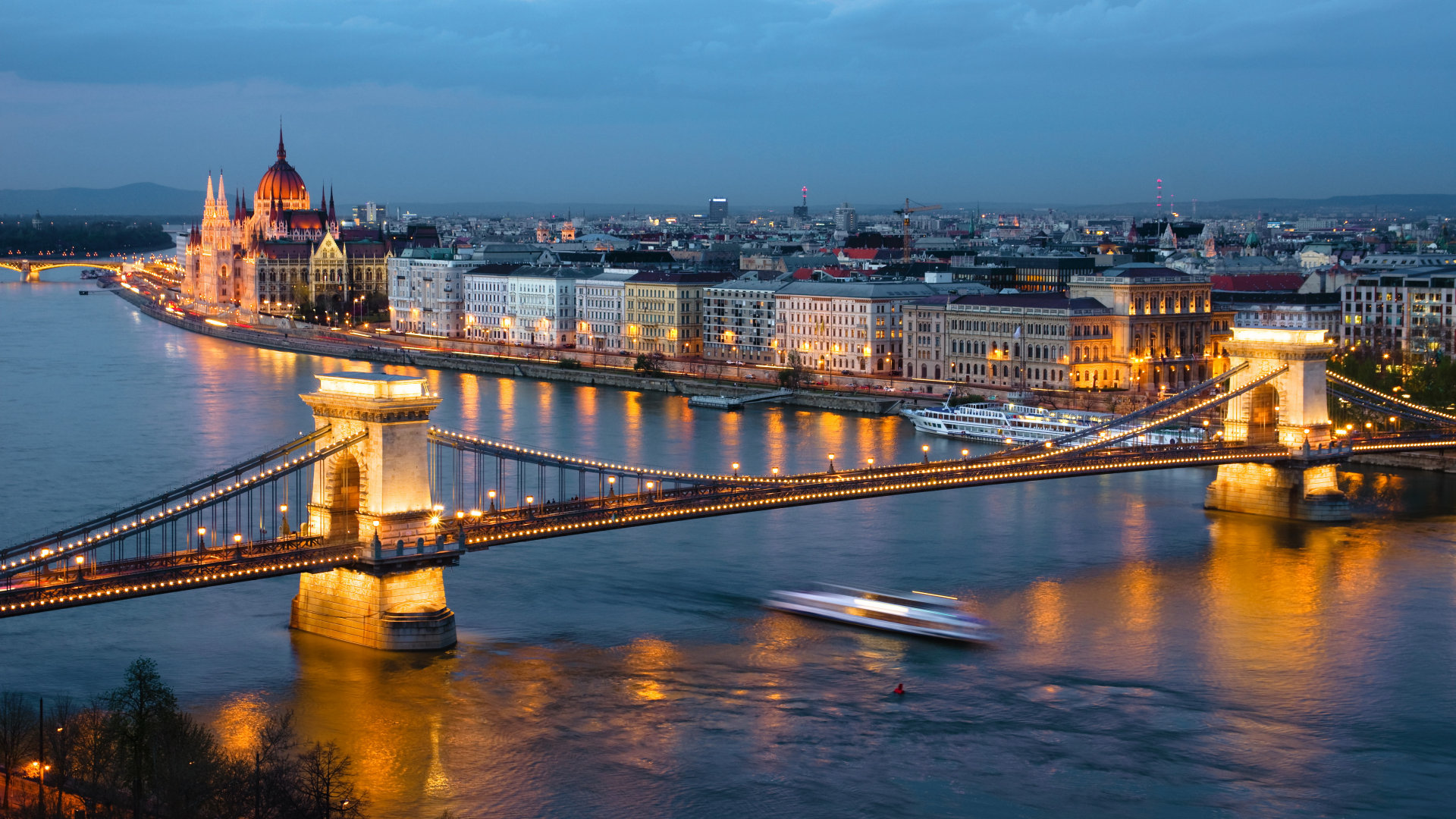 The city of Budapest was officially established in November 1873 by merging the neighbouring cities of Pest, Buda and Óbuda. Since 1987, the area extending from Margaret Bridge to Szabadság (Liberty) Bridge, including the Castle District of Buda and one of the largest Parliament buildings, has been included in the World Heritage List.
After the 1990s, the Hungarian capital made its first steps on a long journey of development to turn Budapest into a genuine European city where the past and the present are joined together in harmony.
Some interesting facts about Budapest:
Budapest remains the only capital city in the world that is rich in thermal waters with healing qualities. More than a hundred medicinal hot springs supply most of the spas.
It is the only capital in the world which has caves of significant size and length underneath its buildings and streets. More than two hundred caves are known under the Buda side of the city.
It has the oldest electrified underground railway system on the European continent, and the second-oldest electrically operated underground railway in the world: Underground Line 1 or Yellow Line (Millennium Underground).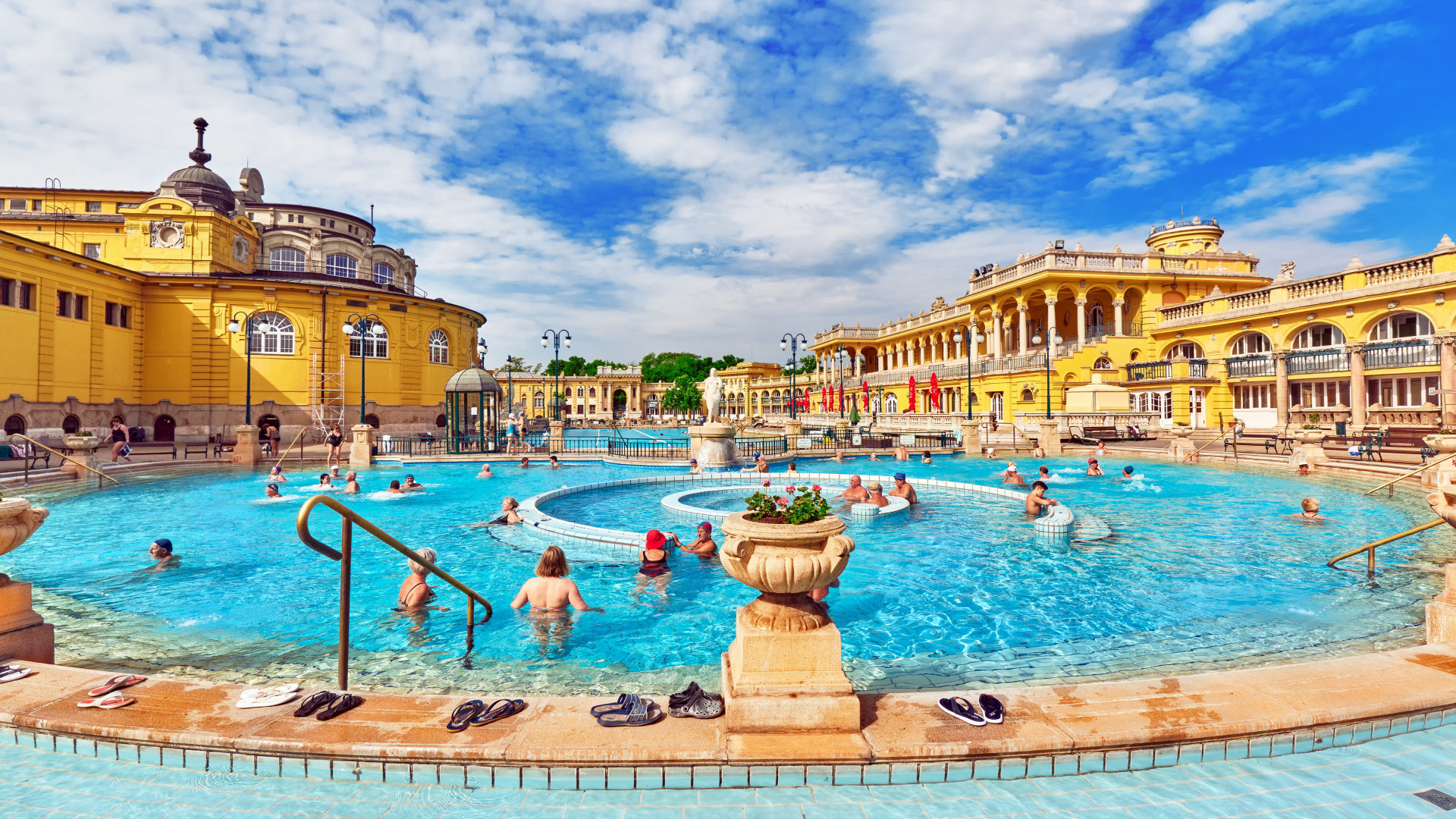 Local Information
Population of Hungary: 9 778 371 (01.01.2018)
Capital: Budapest
Population of Budapest: 1 749 734 (01.01.2018)
Official language: Hungarian (Magyar)
Area: 93 030 km²
Time zone: CET (UTC+1)
In summer: CEST (UTC+2)
Internet TLD: .hu
Calling code: +36
Electricity: 230 V/50 Hz (more information about plugs and sockets)
Currency: Hungarian Forint (HUF)
Coins: 5, 10, 20, 50, 100, 200 HUF
Banknotes: 500, 1000, 2000, 5000, 10000, 20000 HUF
Emergency phone numbers
Ambulance: 104
Police: 107
Fire service: 105
Central emergency number: 112
Transportation
Arriving at the Budapest Ferenc Liszt International Airport
Budapest Ferenc Liszt International Airport (Hungarian: Budapest Liszt Ferenc Nemzetközi Repülőtér) (IATA: BUD), is the international airport serving the Hungarian capital city of Budapest.
Public transport
The direct shuttle bus service, route "100E", operates between the airport and the city centre (Deák Ferenc tér), with a frequency of 30 minutes. The journey takes about 40 minutes and it is available with an airport shuttle bus single ticket. You can purchase the ticket at BKK customer service centres, ticket offices and vending machines and it costs 900 HUF.
More information:
Please do not forget to validate a new single ticket every time you change vehicles except when changing between metro lines. At "Kőbánya-Kispest", you can change to Metro Line 3 to central Budapest.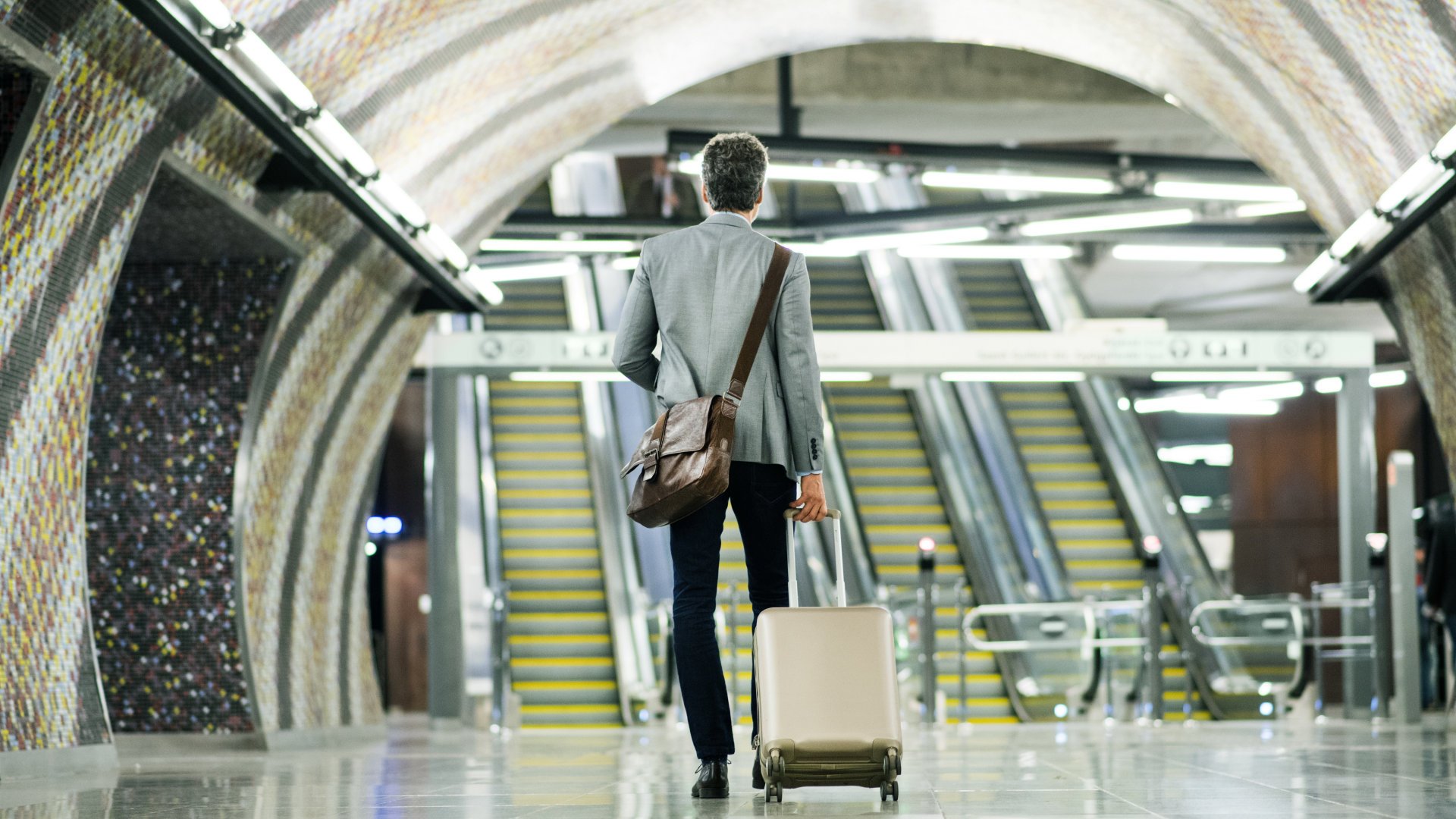 Airport Shuttle-Minibus service
The Airport Shuttle-Minibus service escorts its passengers between Budapest Liszt Ferenc International Airport and any point of Budapest.
More information: www.minibud.hu/en
Airport Taxi
Főtaxi is the contracted/official taxi company of the airport. Főtaxi ensures the safety and comfort of passengers by only working with experienced drivers who speak at least one foreign language and a car fleet consisting of vehicles newer than 5 years. All cars are equipped with a POS terminal, therefore credit cards are also accepted. Reservations can be made in person at the Főtaxi booths located at the exits at Terminals 2A and 2B. At the taxi rank in front of the stands, taxis are parking continuously waiting for passengers. Please make sure you reserve a taxi through the official taxi booths, it is not recommended to take private/individual taxis.
Arriving by train at Keleti Railway Station
The railway station Budapest Keleti Pályaudvar has a direct connection to certain public transport lines (underground line M2 and M4 and several buses).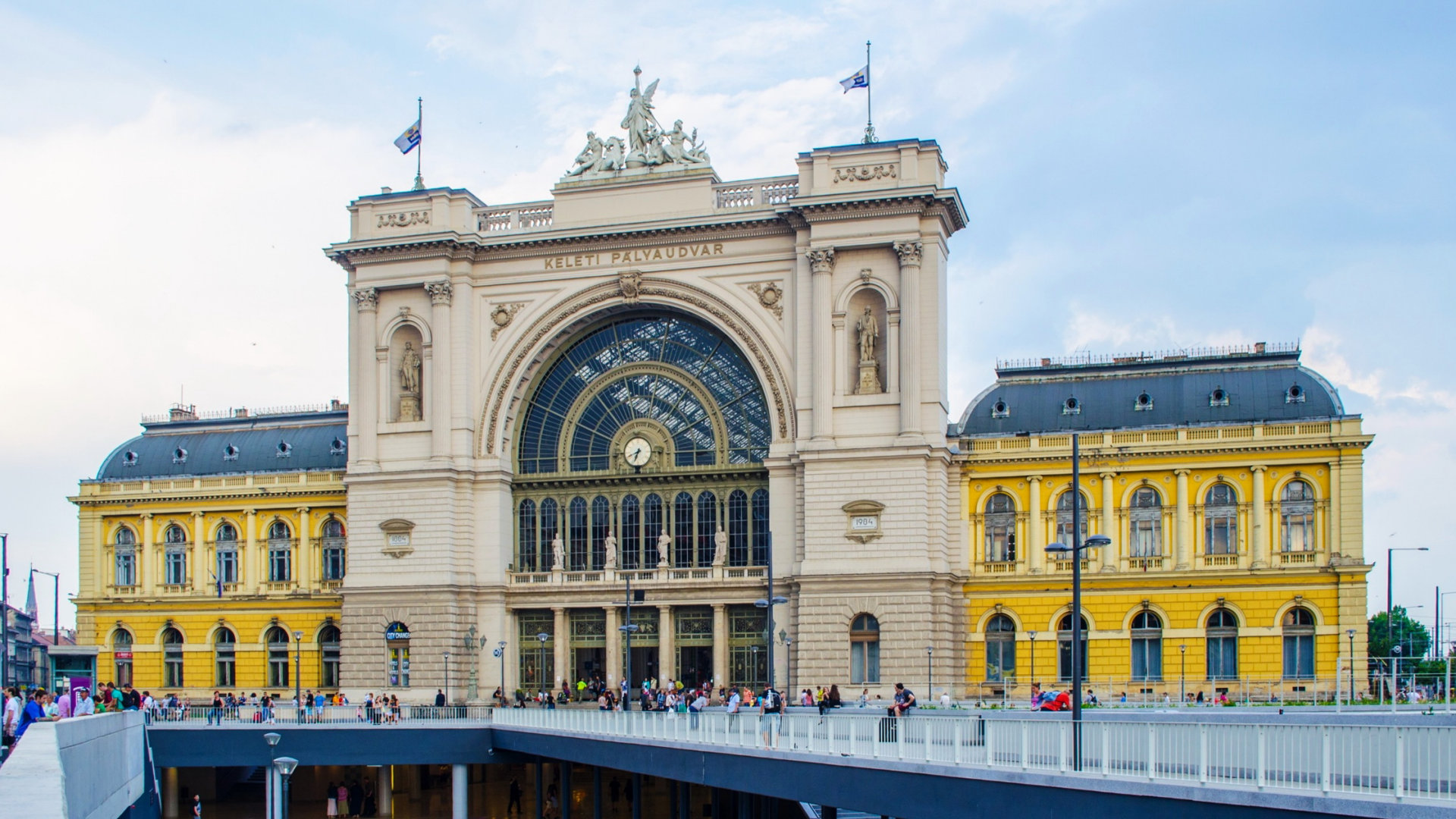 General Information on the public transport in Budapest
Public transport in the city of Budapest is supervised by Budapesti Közlekedési Központ (Centre for Budapest Transport). There is a network of several bus-, tram- and trolleybus routes, as well as four underground lines. There are also five suburban railway lines (HÉV) serving the outskirts of the city. Most services operate from around 5 o'clock in the morning until about 11 o'clock at night.
Transportation tickets should be purchased before boarding the bus, tram or entering the subway and need to be validated upon entry. Machines either punch the ticket or validate it by stamping the date and time of travel.
Tickets are often checked while riding the vehicles or at the subway exits by controllers wearing arm-band and a photo-ID. You should always keep your ticket at all times till you exit the station or leave the vehicle.
Tickets are available at Underground stations, Newsagents, Tourinform offices, ticket machines at some bus and tram stops.
More information: www.bkk.hu/en/main-page/news
Recommended tickets for your stay: