STAT WARS – National Statistical Competition for Secondary School Students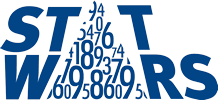 Since 2013, the Hungarian Central Statistical Office (HCSO) has annually organised a statistical competition called STAT WARS for secondary school students. During the competition, 4-person teams from various secondary schools in the country compare their theoretical knowledge and practical skills related to a remarkable anniversary or event each year (e.g. the Great War, World Savings Day, Microcensus, 150 years of Hungarian Central Statistical Office). The two-round competition starts with a preliminary round, during which participants complete a test and good and fast responses are required for entering the final. The top 12 teams will enter the final, where lots of memories and experiences promote the statistical culture among students. In accordance with the traditions of STAT WARS, finalist teams will also produce a video advertisement related to the theme of the given year. The finals of the competitions were held in Ópusztaszer, Szeged and, on the last two occasions, in the Budapest headquarters of HCSO. The competition is becoming increasingly popular among students. In 2017, 154 teams entered this statistical competition.
The national significance of this statistical competition is shown by the fact that this event was included in the Talent Gateway Programme of the Educational Authority in 2016.
---
History of STAT WARS
STAT WARS – IV
Venue of competition
Hungarian Central Statistical Office, Budapest
Subject of competition
'150 years of Hungarian Central Statistical Office'
Exact date of competition
8 November 2017
Number of stations
12
Number of applying teams
154
Number of finalist teams
12
Schools winning a medal/award
First place: Vocational Training Centre of Zalaegerszeg, László Csány Vocational Grammar School
Second place: Vocational Training Centre of Baja, István Türr Vocational Grammar School of Economics
Third place: István Széchenyi Secondary School and Student Hostel of Dunaújváros
Best film
First place: Roman Catholic Secondary School, Primary School, Kindergarten and Student Hostel of Gyula
Second place: Vocational Training Centre of Zalaegerszeg, László Csány Vocational Grammar School
Third place: Vocational Training Centre of Debrecen, Gábor Bethlen Vocational Grammar School of Economics
---
STAT WARS – III
Venue of competition
Hungarian Central Statistical Office, Budapest
Subject of competition
Microcensus, 2016
Exact date of competition
5 October 2016
Number of stations
12
Number of applying teams
101
Number of finalist teams
12
Schools winning a medal/award
First place: Vocational Training Centre of Miskolc, Gergely Berzeviczy Vocational Grammar School
Second place: Miklós Radnóti Experimental Secondary School of Szeged
Third place: Győr Centre of Vocational Services Training, Ferenc Deák Vocational Grammar School of Economics
Best film
First place: Miklós Radnóti Experimental Secondary School of Szeged
---
STAT WARS – II
Venue of competition
Árkád Shopping Mall, Szeged
Subject of competition
'World Savings Day'
Exact date of competition
4 November 2015
Number of stations
8
Number of applying teams
47
Number of finalist teams
16
Schools winning a medal/award
First place: László Csány Secondary School of Economics
Second place: Győr Centre of Vocational Services Training, Ferenc Deák Secondary School of Economics and Informatics
Third place: Budapest Centre of Economic Vocational Training, Ferenc Rákóczi II Secondary School of Economics
---
STAT WARS – I
Venue of competition
National Heritage Park, Ópusztaszer
Subject of competition
'100th anniversary of the outbreak of World War I.'
Exact date of competition
9 October 2014
Number of stations
10
Number of applying teams
23
Number of finalist teams
20
Schools winning a medal/award
First place: Radnóti Miklós Experimental Secondary School of Szeged
Second place: Secondary School and Primary School of Pécs Reformed College
Third place: Ambrus Ványai Secondary Grammar School and Secondary School of Informatics and Automotive Engineering
---
STAT WARS – 0
| | |
| --- | --- |
| Venue of competition | National Heritage Park, Ópusztaszer |
| Subject of competition | 'Recalling the past and preserving traditions seasoned with 100 years of statistics' |
| Exact date of competition | 2 November 2013 |
| Number of stations | 6 |
| Number of applying teams | 13 |
| Number of finalist teams | 6 |
| Schools winning a medal/award | First place: Team of the Children and Youth Local Government of Kiskunfélegyháza |