Press release - General government deficit and debt - first notification of 2007 - 23rd April 2007.
In 2006 the general government deficit of Hungary amounted to 2 163,8 bn HUF according to the first estimation of national accounts data, which represents 9,2 percentage of GDP. The deficit is approximately 180 bn HUF lower than the autumn forecast of the Ministry of Finance. The difference appears above all in the Social security funds, where the deficit is 135 bn HUF lower than predicted. The government data were calculated on the legal grounds of the Excessive Deficit Procedure (EDP) in the methodological framework of the European System of Accounts (ESA95) and was reported to Eurostat.

With the April 2007 notification the transition period expired, until this date the defined contribution pension schemes were classified inside the general government sector. In compliance with this, retrospective data were recalculated. From now on data for defined contribution pension schemes will be included in the financial corporations sector.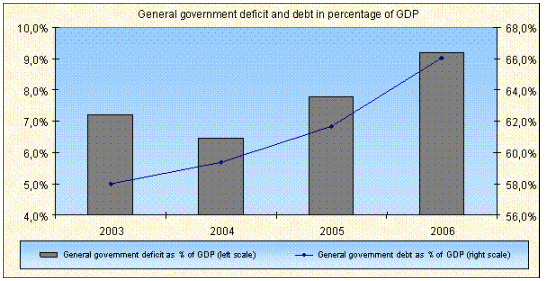 According to the figures of the National Bank of Hungary, general government debt amounted to 15 557,8 bn HUF at the end of 2006, which is 66 per cent of GDP.

Further information: