Press release, 13.08.2015.
"Statistical Yearbook of Hungary, 2014" has come out
Tables in the oldest and largest printed data collection of the Hungarian Central Statistical Office give an overview of socio-economic trends and state of environment in the previous year. Changes in major trends are illustrated by colour charts, the interactive version of which is available on our website. The publication is issued with an Internet annex (the volume in PDF format, Excel tables suitable for further processing and a Glossary in Excel format), which is available from the e-shelf of HCSO following a quick registration on the website and the activation of a code supplied in the volume purchased.

The yearbook of year 2013 is freely available in the archives of "Statistical Yearbook of Hungary, 2014"!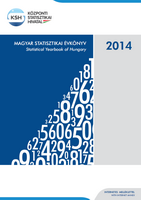 More in Publication repertory
Hungarian Central Statistical Office
H-1024 Budapest, Keleti Károly u. 5-7. Phone: +36 (1) 345 6000
Postal address: P.O.B. 51 Budapest, H-1525
http://www.ksh.hu