Press release, 26.10.2016.
Gabriella Vukovich, President of HCSO was elected a Council member of the International Statistical Institute
Gabriella Vukovich, President of the Hungarian Central Statistical Office was elected a Council member of the International Statistical Institute (ISI). ISI is one of the international scientific organisations having the longest history. The presence of the President of HCSO in the ISI Council is the recognition of the performance of both the HCSO and the Hungarian statistical profession.
The main objective of the International Statistical Institute is to promote worldwide the better understanding of statistical data, the professional and methodological developments and the spread of good practices. This is also reflected in the motto of the organisation: 'Statistical Science for a Better World'.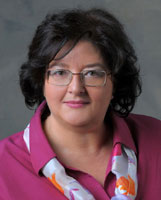 The Council members of ISI are elected for 4 years, and they work in close co-operation with the Executive Committee (President, Vice-Presidents). The task of the council is to take part in the elaboration of the long-term strategic plans and operative programmes of ISI. The members elected for the 2017–2021 period during the election completed on 4 October 2016 are: Ola Awad (Palestine), Anil Gore (India), Victor Panaretos (Switzerland), Nathalie Shlomo (United Kingdom), Kwok Tsui (Hong Kong), Jessica Utts (USA), Martina Vandebroek (Belgium) and Gabriella Vukovich (Hungary).
ISI was officially established in 1885, but the regular world statistics congresses considered the forerunner of the organisation have already been held since 1853. The first 81 members of ISI came from the elite of statisticians working in governmental and scientific fields that time. Among the founding members of the organisation there were eight Hungarian statisticians. Károly Keleti, academician, the founding president of the Hungarian Central Statistical Office also played an important role in the foundation of ISI. At present, the membership of the organisation already consists of 5,000 persons, and the members work in more than 100 countries as producers, teachers or researchers of statistics.
The organisation promotes the understanding of the latest professional and scientific results of statistics with many international events, training programmes and publications. At the same time, it contributes to the development of statistical knowledge and skills in the less developed regions and countries and operates programmes to support the career development of young statisticians as well.
Hungarian Central Statistical Office
H-1024 Budapest, Keleti Károly u. 5-7. Phone: +36 (1) 345 6000
Postal address: P.O.B. 51 Budapest, H-1525
http://www.ksh.hu