Press release, 30.09.2015.
The publication titled 'National accounts of Hungary, 2014 (2nd preliminary data)' has been published
The Hungarian Central Statistical Office prepared its publication titled National accounts of Hungary, 2014 (2nd preliminary data) . The member countries of the European Union compile the 2nd preliminary data of national accounts by the end of the 9th month following the reference period – similarly to earlier years.
According to the 2nd preliminary data gross domestic product (GDP) was HUF 32,180 billion at current prices in 2014, which is HUF 289.0 billion higher than the first estimate based on infra-annual data. The volume of GDP grew by 3.7% in 2014, which is 0.1 percentage point higher than the figure published on the basis of quarterly calculations.
The value of gross national income was HUF 30,757 billion in 2014. When compiling the 2nd preliminary data, our data published to date for 2012–2014 were revised in routine revisions in accordance with the disclosed revision policy applied for years. When checking GNI calculations Eurostat suggested to further fine tuning the methodology, which we implemented for the complete time series.
The impact of revisions on gross domestic product is shown by the chart below:
Gross domestic product at current prices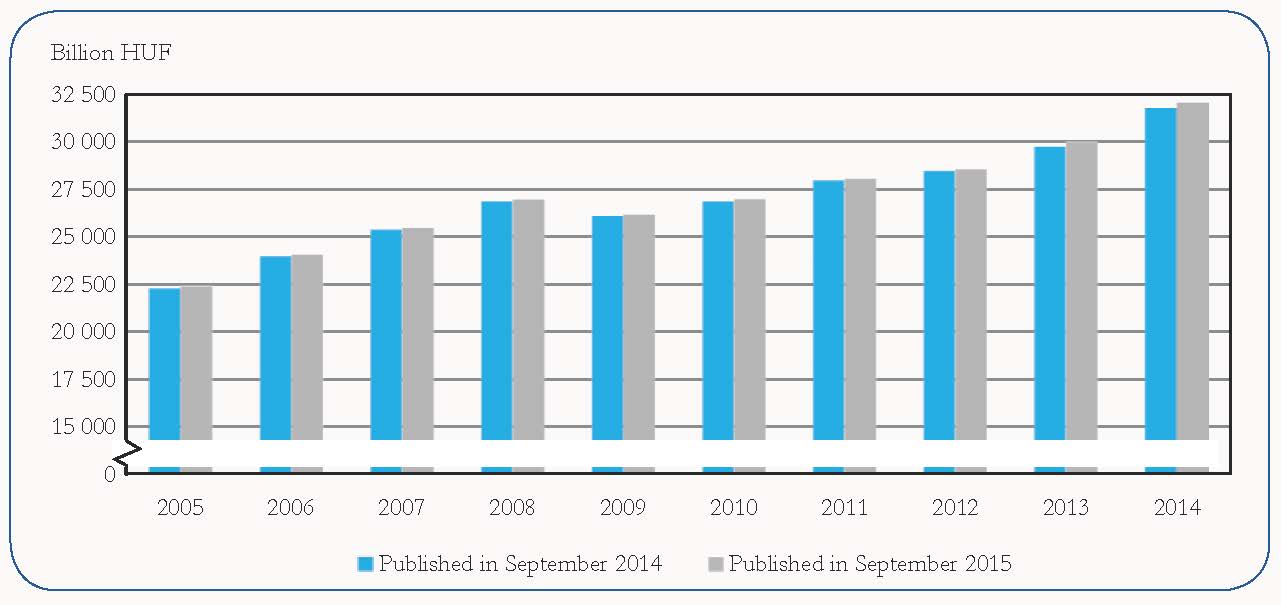 Hungarian Central Statistical Office
H-1024 Budapest, Keleti Károly u. 5-7. Phone: +36 (1) 345 6000
Postal address: P.O.B. 51 Budapest, H-1525
http://www.ksh.hu