World Statistics Day, 20 October 2010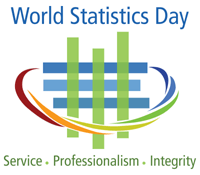 At its 41st session, the United Nations Statistical Commission endorsed 20 October 2010 as the date of World Statistics Day. The General Assembly adopted Resolution on the World Statistics Day at its 64th session on 3 June 2010.
On World Statistics Day, activities at national level will highlight the role of official statistics and the many achievements of the national statistical system on the core values of service, integrity and professionalism.
Hungarian Central Statistical Office,
Hungarian Statistical Association and the
Committee on Statistics of the Hungarian Academy of Sciences