Press release - Balance and debt of general government sector - first EDP notification of 2014 - 23th April 2014
The general government sector had a deficit of HUF 633,6 billion in 2013, 2,2 % of GDP according to the preliminary data of national accounts. The government data were calculated on the legal grounds of the Excessive Deficit Procedure (EDP) in the methodological framework of the European System of Accounts (ESA95) and were reported to Eurostat.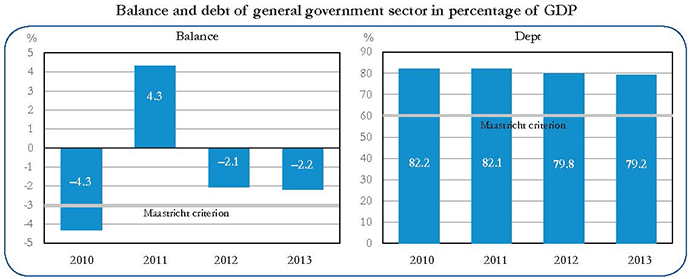 According to the figures of the National Bank of Hungary, general government debt amounted to HUF 23 068 billion, 79,2% of GDP at the end of 2013.
Data for 2010-2012 are the same as published on 31 th of March, general government deficit for 2013 is higher by 6,6 billion HUF as consequence of clarification with Eurostat due to the reclassification to financial transaction of dividends paid out of its reserves by a public corporation.
Further information: