Balance and debt of general government sector - second EDP notification of 2014 - 21st October 2014
The general government sector had a deficit of HUF 724.4 billion in 2013, 2,4 % of GDP according to the preliminary data of national accounts. The government data were calculated on the legal grounds of the Excessive Deficit Procedure (EDP) in the methodological framework of the European System of Accounts (ESA 2010) and were reported to Eurostat.
The new methodological regulations concerning national accounts (ESA 2010) came into effect in September 2014, therefore, data have been revised according to the new methodology. The balance of the general government sector has been changed mainly because of the modified accounting of assets taken over from private pension funds and of interest on swap transactions. Assets taken over from pension funds – distinctly from earlier – can't be recorded for their full amount as revenues, but have to split for a long period, recorded at the same time as pension payments are realized. The swap interests are regarded in EDP report as financial transaction according to new methodology, not as property income as earlier. Detailed information in connection with methodological changes is available in National Accounts of Hungary, 2013 (preliminary data), released today.
According to data compiled in compliance with the methodological requirements of the system of national accounts (ESA 2010) the revenues of the general government sector amounted to HUF 14 113.7 billion, expenditures to HUF 14 838.1 billion HUF.
Revenues were up by 6.5 % compared to 2012 and expenditures were increased by 6.7 % compared to the previous year.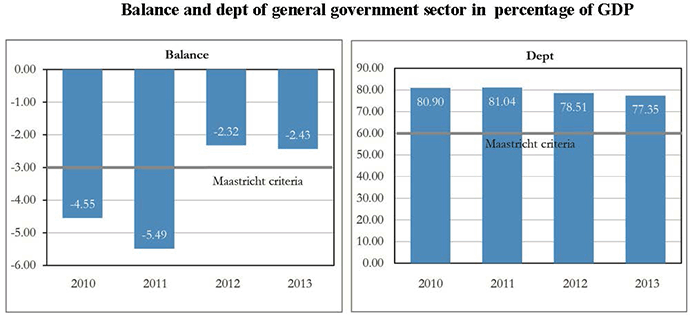 According to the figures of the National Bank of Hungary, general government debt amounted to HUF 23 085 billion, 77.3 % of GDP at the end of 2013.

Further information: